Amanda Larraga CADSA Board President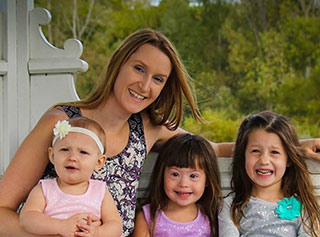 Amanda and her husband Eligio have 3 beautiful daughters, Madeleine, Marcie, and Meredith. Marcie was diagnosed with Down syndrome shortly after birth (July 2012). The Larraga family moved from South Carolina to Michigan in November 2014 to be closer to Amanda's family.
Amanda works as an Accreditation Analyst for the Children's Special Health Care Services (CSHCS) program within the Michigan Department of Health and Human Services (MDHHS).
Amanda is excited to promote awareness and acceptance of Down syndrome at the medical, educational and community levels. She has a special passion for reaching out to families who have just received a new diagnosis for their child. She believes through education, support, and outreach she can help to make a difference in the lives of people with Down syndrome, the families who love them and the communities who support them. Coordinator for Step Up for Down Syndrome 1 mile walk/5K run