Jennifer Botruff Operations /Programs Manager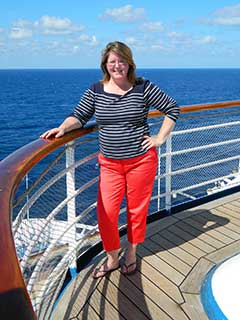 Jennifer is thrilled to be part of the CADSA volunteer community. She is excited to help those with Down syndrome, and their families find guidance and support through our collective efforts.
She and her husband Brian were married in 1989, and have two children Sarah and Joshua. Sarah graduated from Michigan State University and Joshua (born with Down syndrome in 1996) graduated from Fowlerville High School. Joshua enjoys CADSA classes including drumming and Karate, Fowlerville Community Theater, and Special Olympics Basketball.
Jennifer's hobbies include travel, cooking, boating, and gardening.
Professionally she holds a degree in Human Resource Management, Special Education Professional Teaching Certificate in Elementary Education, with K-12 Specific Learning Disability endorsement. She also earned a Masters in Special Education in Cognitive Impairments.
She is thankful for the opportunity to have served as the Board President for CADSA and looks forward to continuing to help CADSA with Operations and Programs Manger for 2018.