Amanda Larraga CADSA Board President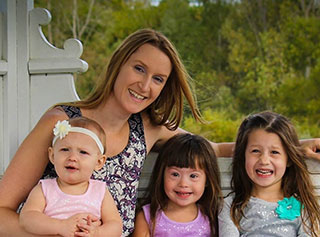 Amanda and her husband Eligio have 3 beautiful daughters, Madeleine, Marcie, and Meredith. Marcie was diagnosed with Down syndrome shortly after birth (July 2012). The Larraga family moved from South Carolina to Michigan in November 2014.
Amanda works as an Accreditation Analyst for the Children's Special Health Care Services (CSHCS) program within the Michigan Department of Health and Human Services (MDHHS).
Amanda is excited to promote awareness and acceptance of Down syndrome at the medical, educational and community levels. In October 2017 Amanda and her daughter Marcie supported the Global Down Syndrome Foundation by attending a historic congressional hearing titled "Down Syndrome: Update on the State of the Science & Potential for Discoveries Across Other Major Diseases" for the U.S. House of Representatives Appropriations Subcommittee on Labor, Health and Human Services, and Education in Washington, D.C. She is passionate about medical research and inclusion for people with Down syndrome. Amanda attended the most recent Down Syndrome Affiliates in Action (DSAIA) national conference in Denver, CO and is currently serving as the Board President.