Contact Us
We would love to hear from you! Please feel free to contact us if you would like more information or are interested in becoming a member of the CADSA family. 
Also, if your child or someone you know has recently been diagnosed with Down syndrome, and you would like someone to chat with or ask questions, please leave us a message.   Someone from our welcome committee will contact you. We are happy to answer any questions, or simply listen to your concerns.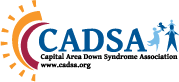 Contact 517-333-6655 to arrange an appointment.
You may reach us at:
Capital Area Down Syndrome Association
808 W. Lake Lansing Road, Suite 101
East Lansing, Michigan 48823
(517) 333-6655
info@cadsa.org